Industrial Noise and Power Acoustics
We can help you through all your project's acoustic design phases, including your initial engineering and planning stages and facility layout strategies, Environmental Impact Assessments and Expert Witness support, developing the facility's Noise Control Design and performing Noise Compliance and Diagnostic Sound Measurements.
A small representative sample of our industrial projects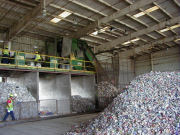 Recycling Centers Can Be Loud
Everyone agrees that recycling of paper, plastic, cans and glass bottles is good for the environment but it can get noisy if abatement is not considered. Just think about how much noise is generated on garbage pickup days when your single bin of recyclables hits the truck. Now imagine the sound when a large truck dumps its full load at the recycling center. We've measured and created models of the impact sounds made from these sources and have used this data for developing noise abatement strategies, such as placement of sound barrier walls or building designs, to keep it quiet for the neighbors.
Saving our earth's resources and keeping it quiet

Landfill Expansion Noise Impact to Community
New landfills and expansions of existing facilities are overwhelmingly opposed by residents in most communities. Noise is always a major concern for residents located near them. We've gathered existing ambient data and created computer generated noise models of the sound generated by a new or expanding facility. These items are critical in defining the community noise impacts. These types of projects generally require expert testimony in public hearings - all services Power Acoustics, Inc. provides. Generally speaking, however, with proper consideration for truck traffic within the landfill and strategic placement of berms near the operating cells, sound generated by landfill operations can be controlled to acceptable levels within most communities.
We all generate it, need to get rid of it, but don't disturb the neighbors...

Trash To Energy Power Plant Noise
Perhaps one of the best solutions to help minimize landfill waste while also serving as fuel for generating electricity. This type of facility has noise sources similar to both landfill operations and
power plants.
Careful noise abatement designs can be utilized to help keep these plants in harmony with the community.
Waste elimination and electric power generation noise measurement and analysis

Manufacturing Noise
Our acoustical consultants mapped the sound levels inside of this Georgia manufacturing facility and created sound level contours. Sound level mapping of the 240,000 SQ FT manufacturing floor included measuring sound from various saws, pneumatic tools and high capacity fans.
When necessary, we also develop conceptual noise abatement for manufacturing and industrial facilities.
Noise mapping of manufacturing and assembly areas

Noisy Cooling Towers
A spring water bottling company installed a new cooling tower which emitted a strong tone heard within the community. We recommended a modification to its operational parameters. Hardware was installed while we waited at the site. A noise reduction of several decibels was realized the same day we began our investigation of the problem as a result of our recommendations.
Although not typically this easy to resolve, we've had success reducing noise from cooling towers on many of our projects.
Cooling Tower Noise Abatement

Working with our clients to resolve noise challenges before their Facility is built
Power Acoustics, Inc. typical involvement as an
expert witness
is related to projects in need of special use permits or zoning approvals. However, we also perform work in eminent domain issues, criminal cases, and various other situations requiring acoustical expertise.
Expert Witness and Testimony for Special Use Permits and Legal Support

Florida's Acoustical Consultants