Residential Noise and Power Acoustics
We can help developers, HOAs, and building managers through all your project's acoustic design phases, including your initial engineering and planning stages and facility layout strategies.
We normally do not work with individual homeowners on noise issues outside or within their homes.
A small representative sample of our residential projects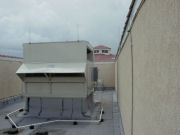 Development of HVAC Silencing
In this luxury retirement community, some residents were annoyed at the noise from this rooftop unit. We measured the sound pressure levels and developed a silencer design to reduce noise on resident's patios by several decibels.
Retirement Condominium, Sarasota, Florida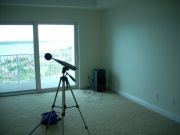 Residents can hear "too much" through bedroom walls
Isolating noise areas from quiet areas is essential in many environments. Power Acoustics, Inc. performed noise tests of the walls and determined the Field Sound Transmission Loss (FSTC). We then used the data to help design a modified wall system that added several decibels of noise reduction and reduced complaints from the neighbors.
High-rise Condo, Daytona Beach, Florida

Florida's Acoustical Consultants