Transportation Noise and Power Acoustics
We have performed acoustical studies related to noise impacts from airports, railroads and automobile traffic noise on both residential development and commercial properties. We perform a wide array of acoustical and noise control services as demonstrated by some of the projects shown below including expert witness support in eminent domain cases.
A small representative sample of our transportation noise projects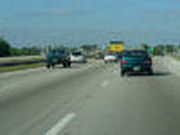 Highway Noise from Expansion
Power Acoustics performed a noise impact study of sound related to the expansion of Suncoast Parkway 2 in Citrus County, Florida. We estimated the sound level of the Parkway expansion using the Department of Transportation Federal Highway Administration traffic noise model "TNM", the model specified by the Florida Department of Transportation. We also measured existing ambient sound levels at the neighboring homes with our long-term weatherproof sound monitors. The noise data along with the analytical modeling of the projected highway noise allowed us to simulate the effect of the expansion on the residential neighbors. The final report was used by the community for discussion with authorities on highway placement and possible noise control sound barriers and abatement.
Similar studies are performed for many Eminent Domain Cases.
Suncoast Parkway 2 Expansion, Citrus County, Florida

Can Airports and Homes Coexist?
While many communities are not within regulated noise abatement areas, it is often prudent to consider additional noise abatement for new homes. Power Acoustics performed noise testing of the existing area to determine if the sound of airplane and helicopter air traffic noise would cause problems for a potential residential community proposed to be built adjacent to the airport. One study consisted of measuring existing ambient sound levels near a Regional Airport over a period of several days and determining if noise abatement was necessary for the homes to meet the desired sound level.
New NextGen flight paths, a result of the FAA's program to modernize the nation's airspace, are also causing new residential concerns.
Communities Near Regional and International Airports - NextGen Florida

Feasibility Study of Development near Train Tracks
A residential developer wanted to place a new condominium adjacent to a railroad crossing and was worried that the train horns and whistles as well as general train rumble would cause a noise problem with the potential buyers of his condominium development. We evaluated the noise of the trains through sound level measurements and analysis. We later provided solutions to reduce the effects of the train noise including building wall construction improvements, high STC rated windows and suggested a wayside horn to the nearby crossing and sound barrier wall adjacent to the tracks.
New Condominium Located Adjacent to a Railroad Line

Working with our clients to resolve noise challenges before their Facility is built
Power Acoustics, Inc. typical involvement as an
expert witness
is related to projects in need of special use permits or zoning approvals. However, we also perform work in eminent domain issues, criminal cases, and various other situations requiring acoustical expertise.
Expert Witness and Testimony for Special Use Permits and Legal Support

Florida's Acoustical Consultants